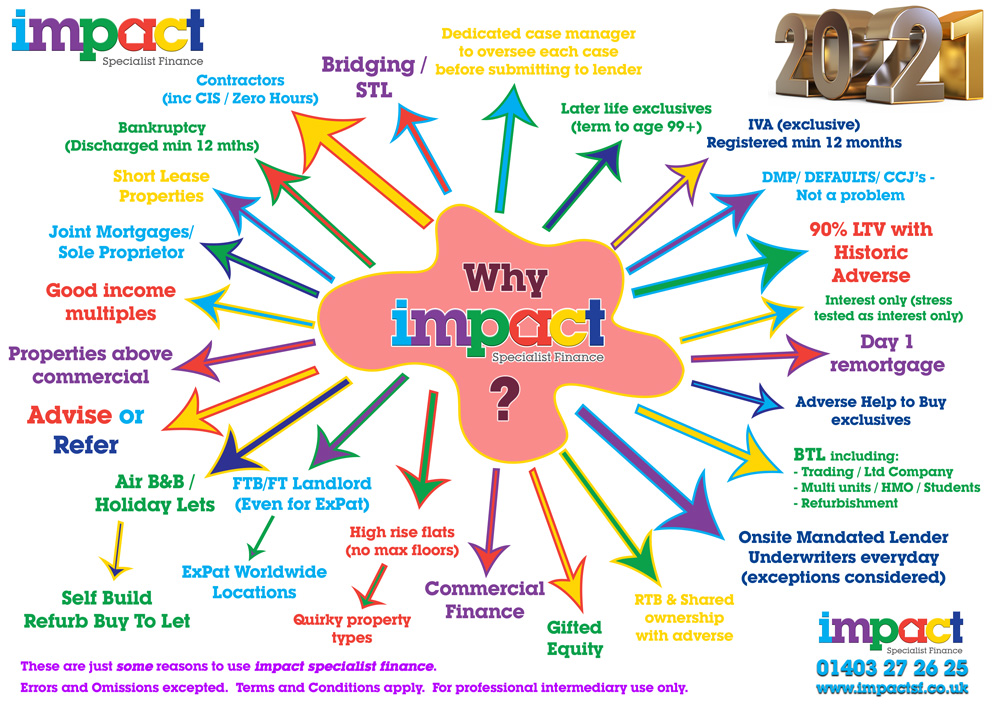 Why Us:
Impact Packaging was established in 1991 to provide a competent, comprehensive and professional mortgage service arranging all types of mortgages for all types of people.
The business is based in Horsham, West Sussex but operates nationally. Our staff have in excess of 230 years collective financial services experience between them and our professionally qualified advisers average 25 years a piece. Their experience ranging through building societies, banks, insurance companies and estate agency giving a comprehensive perspective and understanding of the market place (3 of the team can even remember the recession of 1972!).
Whether your client's are first time buyers, self employed, retired and need capital or income (equity release), expatriate, have poor credit, or are just simply looking for a better rate of interest, we can help them find the right mortgage. As every case is unique and personal and we are used to dealing with the straightforward as well as the complex prime. We are mortgage specialists.
Our motto is 'Mortgages Made Easy'.
Impact Packaging is an independent company.


We have a number of services which we can offer you:
At Impact Packaging we understand the need to respect the relationships that you have previously built up with your clients and unreservedly offer a
100% no cross sell
guarantee.
Each product offering though Impact Packaging will carry a different proc fee, some products will carry a fixed rate whereas others will be based upon loan size. However these will always be expressed as a percentage, and we will pay procuration fees as soon as a case reaches legal completion, subject to confirmation from the lender and solicitor and the lender has paid Impact Packaging.

Have you seen our COMPLEX PRIME proposition?
Here is an indication of the types of cases we have successfully placed;
Key worker scheme required, applicant had adverse credit and was short term self employed.
Foreign National, UK taxpayers / applicant did not have permanent rights to reside.

With over 230 years of combined experience and whatever your client's situation we are confident that we can find the right mortgage for you and your clients.
Impact Packaging- the fast track processing arm of Impact Money Group for all directly authorised and approved Intermediaries who have pre-sourced their client's application, submit applications via our website, post, sourcing systems or who require assistance in researching cases.
We have a team of experienced Mortgage Sales Consultants available every day to assist you, whatever your clients circumstances.
Refer Direct Introducers – For those who are undecided about their preferred status in the mortgage market post regulation, but who still want to operate and conduct mortgage business. Impact Packaging will deal with the client directly and cover all compliance and regulatory needs. In return a % payment of the lenders normal recommended procuration fee will be paid to the introducer.
Why Impact Packaging does not have an AR offering?
You may have noticed that Impact Packaging do not have an AR offering. This decision is a deliberate one as we believe that there are other companies better placed to provide the infrastructure and resources to satisfy regulatory requirements. This decision will allow Impact Packaging to build on the core competencies it has developed since its inception, in providing a rounded service proposition to the mortgage industry, but without the considerable distraction of running and supervising a network.


Our Vision:
"To be the mortgage provider, distributor and packager of choice; most preferred by our partners and most regarded by our customers."