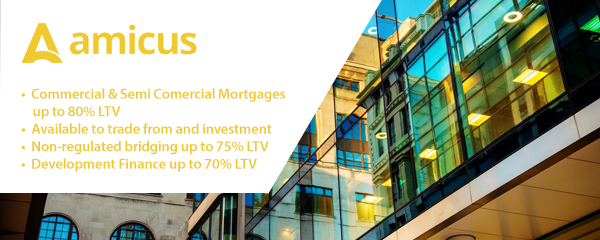 Amicus are a specialist property lender offering specialist finance solutions to private and corporate borrowers across the UK.
Amicus build their most successful deals on the bedrock of effective collaboration and strong relationships. Clear communication between stakeholders: lenders, brokers, valuers, solicitors and clients.
Amicus Commercial Mortgage Product Highlights:
Complex BTL rates from 5.25%
Commercial Investment rates from 5.60%
Commercial Owner-Occupied rates from 5.50%
Mortgages from £75,000 to £2,000,000
Up to 80% LTV available
Repayment, Interest-Only and Part & Part available
Variable and 3/5 year fixed rates available
Terms from 2 - 20 years
Available in England and Wales
Individual Residential Properties, HMOs and Multi-Unit Blocks accepted
Available to Individuals, Sole Traders, Partnerships and LLPs, Private Ltd Companies (Ltd), Public Ltd Companies (PLC), Trusts and SIPPs, registered and based in the UK (including Channels Islands and Isle of Man).
Core Commercial Property Types
Commercial Offices, Warehouse, Factories/Industrial Units, Commercial Land with no buildings, Guest Houses, B&Bs, Hotels, Nursing/Care Homes, Nurseries/Days Cares, Owner-Occupied Pubs, Restaurants/Cafes, Retail Units, Rural/Agricultural Property and Garage Services
Core Commercial Property Types
Working Farms, Nightclubs, Petrol Stations, Purpose Built Gyms, Land Only (non-commercial), Holiday/Caravan Parks, Investment Pubs, Football Clubs and Schools
Amicus Residential Bridging Finance:
What is it for? - Mainstream residential finance isnít always an option, or even the right option. Short-term finance offers a way forward. Trust Amicus to support you in raising tailored finance quickly; bridging a funding shortfall; covering a purchase at auction.
Rates from 0.70% per month
Up to 75% LTV (1st Charge)
Loans from £30,000 - £7,000,000
Amicus Commercial Bridging Finance
Amicus understand the complexities of commercial property investment: they can develop a prompt, dependable short-term finance solution to answer your situation, however tricky. Their experts can structure deals to tide over temporary funding shortfalls, or simply to secure finance quickly for time-critical opportunities. From small mixed-use units to vast industrial real estate.
Rates from 0.75% per month
Up to 70% LTV
Loans from £30,000 - £7,000,000
Amicus Refurbishment Finance
What is it for? - There are many variables in the timescale of a refurbishment project, but finance neednít be one of them. Amicus are committed to working as quickly as possible to arrange a short-term loan that helps you make progress. Their experts can structure deals to complete a refurbish or accelerate a buy-to-let venture. Whether youíre dealing with planning permission and building regulations or just fitting a new kitchen.
Rates from 0.89% per month
Up to 70% LTV
Loans from £30,000 - £7,000,000
Development Finance
Development opportunities require substantial planning. With building regulations and planning permission to consider, it's often a complex process. One aspect you can have confidence in, is dependable short-term financing from Amicus.
Rates from 0.80% per month
Up to 70% LTV
Loans from £30,000 - £7,000,000
Auction Finance
What is it for? - Long-term mortgages often take longer to arrange than short-term finance. Amicus are different; they can help you to secure the funds you need quickly, to fit in with tight auction-house timescales.
Rates from 0.90% per month
Up to 75% LTV on Residential Properties
Up to 70% LTV on Commercial Properties
Loans from £30,000 - £2,000,000
To discuss Amicus, call our Bridging and Commercial team on 01403 272625 (option 4).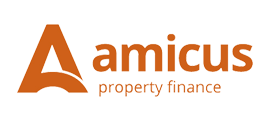 Submit a DIP
Useful Links
Contact Details
All Types of Mortgages Limited
AToM House
24 Carfax
Horsham,
West Sussex
RH12 1EB
Phone:
01403 272625