Landbay is a specialist buy-to-let mortgage lender with tailored lending solutions for experienced Landlords and complex cases. With their personalised underwriting team, you can expect a lending offer, subject to valuation, within 48 hours of application, simple fee structures and low interest rates. Landbay buy-to-let mortgages are funded entirely through their peer-to-peer alternative investment platform.
Landbay Standard Product Range Highlights:
Standard rates from 3.09%
Up to 80% LTV on standard BTLs
HMO/MUFB rates from 3.09%
Up to 75% LTV on HMOs/MUFBs
Expat rates from 3.99%
Up to 70% LTV for Expats
Loans from £50,000 to £1,000,000
Available to individuals (including expats), LLP's and Ltd. Companies (SPV) borrowers
Trading Ltd Companies considered
For properties in England and Wales
All products have a LIBOR floor of 0.10%
5 Year fixed rates available
Tracker products with no ERCs available
Available for HMOs with up to 10 bedrooms
Minimum HMO value reduced to £120.000
Small HMOs (6 or less beds) charged at standard product rates
Available for MUFBs with up to 10 units
Properties above/adjacent to commercial premises considered
Solicitors
Landbay uses a selected panel of solicitors. Dual representation is available through Landbay solicitors. Borrowers can use their own solicitors, but will have to cover the costs for Landbay solicitors too.
For more details on Landbay, contact our Sales Team on 01403 272625 (option 2) or email us at sales.team@atomltd.co.uk.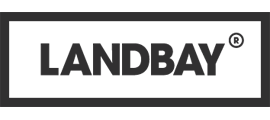 Submit a DIP
Lender Documents
Useful Links